Projects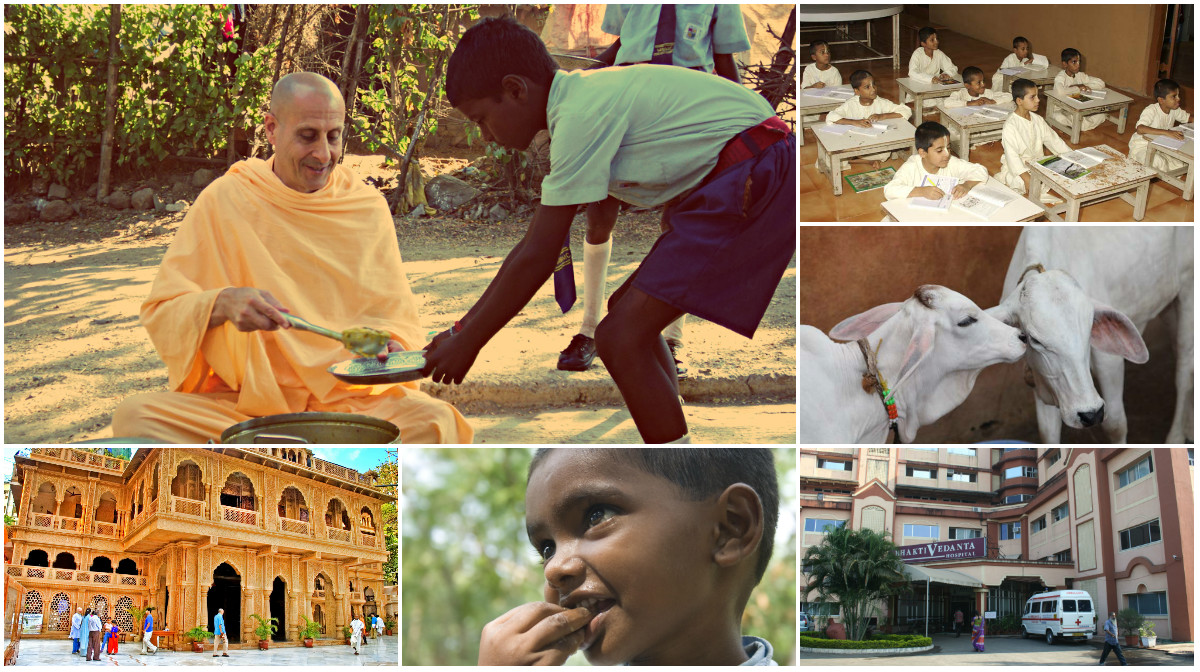 Bhaktivedanta Hospital offers twin advantage of ultra-modern medicine together with the ancient knowledge of different alternative therapies to provide a holistic approach to patient care. Department of Spiritual Care is fully equipped with counsellors and nurses who attend to the mental trauma of patients and their families. Many cases of alcohol & drug abuse have been treated successfully through this department. Treating the mind and the soul along with ailments of the body are integrated to provide complete healing to the patients. Our motto of 'Serving in Devotion' is followed in spirit by all the 360 staff and the 100 consulting specialist of the hospital. The hospital continuously augments its equipment, infrastructure and services to keep pace with the changing times. It has been possible only with the help of philanthropic and committed donors and supporters of Bhaktivedanta, primarily "a-not-for-profit" institution.
Chowpatty, Mumbai
The Radha Gopinath Temple is renowned for its quality of community. The temple was founded in 1986 and is becoming a hub for tens of thousands of devotees. Sri Sri Radha Gopinath Temple is all about serving and pleasing the Supreme Lord and His associates who have so kindly appeared in the form of their deities. The main alter houses, from left to right, the deities of Sri Nitai Gaurachandra, Sri Sri Radha Gopinath accompanied by their associates Sri Lalita and Sri Vishaka, Sri Gopal, and Sri Janardhan. Facing the main alter, at the opposite end of the temple hall, is the deity of Srila A. C. Bhaktivedanta Swami Prabhupada.
The seeds of the annual Barsana Eye Camps were sown when H. H. Radhanath Swami and a team of doctors (who later started the Bhaktivedanta Hospital) were on a pilgrimage to Barsana, in 1991. Radhanath Swami saw that the villagers there were extremely poor, had poor medical facilities, and were becoming victims of 'unnecessary' blindness. So Radhanath Swami suggested to the doctors that they conduct an eye camp in the area. The first Barsana Eye Camp was thus held between 15 January and 30 January, 1992. Over 185 patients were treated. In view of the overwhelming response of the locals, the camp was then made an annual feature. Now, every year more than 2000 patients are screened and the deserving cases are operated for cataract. The Bhaktivedanta Hospital, headed by the same group of doctors, even now takes every care to provide the villagers with the best medical services. The team of volunteers, under the guidance of Radhanath Swami, put their efforts together to build a fully equipped, modern and sterile operation theatre in the primary health center at Barsana. This year, 2010, the team consisted of 12 qualified and well known Ophthalmologists from Mumbai, more than 30 MBBS doctors, 5 Nurses and around 150 volunteers from various fields who all took a break from their respective engagements and made themselves fully available for the camp, working for more than 10hrs a day, without expecting anything in return. This year also Radhanath Swami volunteered in the camp.
Special features of the camp:
1. Detailed preoperative examination of the eye.
2. Advanced imported German Zeis operating microscopes are used.
3. Sterilization standards and the protocols involved are of very high standards.
4. Suture less surgery for cataract removal with implantation of intra ocular lenses in each patient.
5. 24 hrs. Post-operative care before discharge.
6. Immediate Post-operative follow up camp after 4 days of discharge.
Hunger and illiteracy are two of India's most widespread and pressing problems. Although public schooling is offered free of cost to children aged 6–14, poverty bars the underprivileged from taking advantage. Typically hailing from slums and tribal areas, such children must either go hungry at school or resort to begging and child labor. In 2004, the Government of Maharashtra appointed Midday Meal to provide nutritional support for primary school children. The initiative aims to break the hunger cycle by providing impoverished families the incentive to keep their children in school — and off the streets. Midday Meal is a non-profit strategic program run for the benefit of all hungry students without consideration of caste, religion, or gender. For most children, it is their only complete meal of the day.
THE IMPACT
Numerous studies have demonstrated that there is a direct correlation between these lunch programs and increased student enrolment, attendance, attention spans, and exam scores. Other benefits include reductions in skin infection, anaemia, and marked improvements in body mass index.
STATE OF THE ART PROCESS
Midday Meal's four ISO-certified, custom-built kitchens mass-produce meals which are hygienic, nutritious, tasty, and cost-effective. To feed one student costs only ten cents per day, or $20.35 per school year.
Midday Meal's logistical infrastructure is a marvel of engineering ingenuity. Its unique solutions include:
– Automated conveyor belt
– Steam-jacketed cauldrons (660 lb. capacity)
– Tamper-proof stainless steel containers
– Computerized recipes
– Flight-kitchen grade ventilation and drainage
– Rack-fitted delivery vehicles
This century old orphanage saw a spiritual revival in 1987 when Radhanath Swami was requested by its trustees to inspire its vision of teaching spiritual values to its children in the modern times. Radhanath Swami helped expand the services to cater to underprivileged children from the entire state of Maharashtra.
To provide children with more natural and spacious surroundings, the orphanage was shifted from Mumbai to a fifty acre farm with roomy and airy dormitories, classrooms, a large playground and a garden.
Govardhan Ecovillage is situated on 50 acres of pristine farmland in the Wada district of Maharashtra. Although its rustic charm and sylvan ambiance belie the fact, it is only a two-and-a-half hour drive north of Mumbai, South Asia's economic powerhouse. The addition to the community of the Lady Northcote Hindu Orphanage in 2002 brought the total number of residents to 100 (130 including our bovine friends).
Govardhan Farm aims to demonstrate the principles of self-sufficiency and localized economy to the world. In consultation with organic farming experts, all inputs and outputs are natural, and only indigenous varieties of grain are grown. Instead of chemical fertilizers, we employ cow dung and natural compost. Cow urine and neem oil serve as organic pesticides and bulls are favored over machinery for ploughing.
Although modern medicine is making tremendous advancement in disease management, there are many cases that reach a state of incurability. Death is inevitable but arrives slowly, accompanied by severe pain, discomfort and emotional crisis both to the patient and the family. Globally, hospice is a facility for such end stage patients who do not need active medical intervention for cure.
Vrindavana Institute of Palliative Care is hospice center that offers terminally ill patients comfort and highest possible quality of life in the serene environment of the Hindu holy town of Vrindavana. Pain and physical discomforts are managed by modern medicines, while the patient and the relatives are offered emotional support by counseling and prayers. There is special and personalized care at the time of dying.
Gopal Fun School is a weekend program for urban kids. Every parent has an earnest desire to give their child the best by fulfilling their physical, emotional, social and spiritual needs. GFS recognizes the importance of these priorities and equips the kids with life long skills and attitudes, which will enable them to make positive and outstanding contributions in all aspects of life. Through a lively blend of art, stories, quiz, dramas, games, puppet and multimedia shows a child is exposed to spiritual culture and wisdom. The sessions include prayers, meditation and yoga. In its sweetest form, GFS imparts holistic education to children in development of their character and personality. The workshops encourage the development of basic values and talents. A simple gesture of offering flowers to the altar, cultivates the value of giving and not withholding. It evolves in to a spirit of compassion and sharing, and a selfless concern for others.